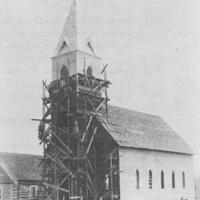 Silver Creek Church turns 125 | Free News
A year of joyful celebration is planned for the 125th anniversary of the founding of Silver Creek Lutheran Church and all are invited.
A 125th Anniversary Committee has been hard at work planning a special celebration for Silver Creek Lutheran and inviting you and your family to the upcoming anniversary weekend. The church is holding a celebration on Saturday August 6th and Sunday August 7th.
On Saturdays, 12-4 p.m., a great assortment of food will be provided by Silver Creek Church, as well as special music, visits with former pastors, and opportunities to walk around the church, cemetery and lands.
Memorabilia and photos relating to the church will also be on display. At 2 p.m., a presentation will be given on the history of the church.
On Sundays, a special service begins at 9 a.m. and features a quartet of singers from the Christus Chorus, Concordia University's St. Paul Concert Choir, and LCMS District President Lueck.
Another wonderful meal will be served after the services.
As stated in a press release, "It's incredible to think about, but 125 years ago a small group of people came together with a desire to build a church to grow their faith and provide a place rest to future generations to do the same.
"It's doubly amazing to realize that their hopes and faith live on more than a century later.
"Over the past 125 years of 'Emmanuel' Silver Creek's Lutheran history, many families have joined and visited the worship. Many descendant families of members who signed the charter in 1897 are still very active in this simple and richly blessed little country church.
"Nothing uplifts and refreshes the spirit more than a weekly reflection on God's love and hope, then stepping out of our church doors and seeing His beauty in the valley, the stream and the woods that surround us at the top of our hill."
The church is located in rural Clayton on County Road D (483 7th Avenue) and has held many special worship services.
April 24 celebrated the actual date on the charter of April 13. The very first worship service was on Easter Sunday in 1897.
On May 15, guest pastor John Eggert visited. Eggert is a local member of the Silver Creek congregation who was ordained and commissioned as a missionary. His first posting was to the mission field in Papua New Guinea. He and his wife, Jeanette, served there for many years.
John then became an adjunct instructor of theology at Concordia University in Portland, Oregon in 2001. From January to August 2019, he served as vacant pastor of Holy Cross Lutheran Church while the congregation completed a self-study to determine the pastoral. needs of the congregation. At the end of August, they called him as a regular parish priest. He accepted and was officially installed as pastor of the Holy Cross on September 14, 2019, until today.
On June 12, former pastor Joel Hoelter visited as a guest pastor. Hoelter faithfully served Silver Creek from November 1981 to January 1994. He then took a calling to Our Redeemer Lutheran Church in Eau Claire, where he served for 12 years. He was elected president of the Northern Wisconsin District of LCMS from 2006 to 2010. He is currently retired.
On July 24, former pastor Norman Peterson paid a visit. Peterson served faithfully until his retirement in 2009.
Coming September 24, the church will welcome former pastor Clinton Hoff. Pastor Hoff came after filling a vacancy at a church in Minnesota in April 2010 and served faithfully until 2015, when he became a missionary in Prague, Czech Republic, and later pastor of Our Savior Lutheran in Ridgecrest, California, where he currently serves. .
The church's press release said: "The community is welcome, and while we realize that many people may have moved to other churches, or even left the area, we would like you and your family come back and celebrate with us.
"Those who are unable to attend but wish to send a memorial gift or memento, or are interested in purchasing a soon to be published church and membership history booklet, please address correspondence to 125th Anniversary Committee at Silver Creek Lutheran Church, PO Box 21, Clayton, WI 54004."
Memorial and memorial gifts will be included in the church newsletter, and a committee is considering a special gift to dedicate to the church after the celebrations.
"The anniversary theme 'Great Is Thy Faithfulness' is a great way to look back on the blessings of the past 125 years and look to the future with anticipation of what the Lord will do in the years to come," said said the press release. Lily.
If you have any questions, please feel free to call Laura Andersen at 715-243-9585, Toni Grosskreutz at 715-977-0422, Pam Fall at 715-641-1910 or Al Thill at 715-641-0927. The church is also active on Facebook at "Silver Creek Lutheran Church".